Women's Bible Study – Erie Campus
Study begins Thursday, September 15 (9:15-11am)

& Tuesday, September 20 (

6:30-8pm)

Join us this Fall for a study on unshakeable joy from the book of Philippians. Jesus never intended us to have a little bit of happiness in our lives. He wants us to have fullness of joy, no matter our circumstances. Childcare available on Thursday mornings.

Buy your book "In All Things" by Melissa B. Kruger.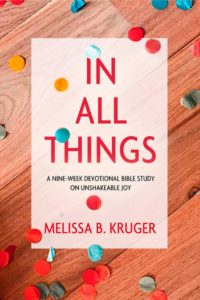 Thursday Mornings
9:15am-11am